Much of our focus in the past has centered around Sub-Saharan Africa and in particularly key 'hubs' in the region – Nigeria in Western Africa, Kenya in Eastern Africa and South Africa in Southern Africa. However, it goes without saying that though these areas are much discussed and have received a lot of attention for their progress in terms of tech and innovation, there are other countries that deserve to be highlighted on. In future, we're aiming at canvassing more of the continent and investigating other countries that normally do not pop up by default when hear about 'tech in Africa'. For example, at the recently concluded DEMO Africa event, I had a chat with Jon Gosier, founder of Appfrica who enlightened me on some of their efforts around the continent. Part of their activities involve running an annual developer contest (Apps4Africa), as part of this they hold developer events in several nations across Africa, I was amazed to learn that some of their highest turnouts were in countries that do not feature in hyped up conversations about tech in Africa.
In this article, I'd like to turn our attention to the northern part of Africa, a region that has received wide attention particularly following the Arab Spring – but what does the technology innovation and entrepreneurship landscape look like in Northern Africa? We can consider the cases of Egypt and Tunisia:
Egypt
Basic statistics
The following data is based on indicators published by the Egyptian Ministry of ICT (MICT), specifically the March 2012 ICT Indicators Bulletin and August 2012 ICT Indicators in Brief
Telecommunications & Mobile: In July 2011, Egypt recorded 77.76 million mobile subscriptions, that number jumped to 92.64 million in July 2012, recording an annual growth rate of approximately 19%.
Internet, Web & Social: In July 2011 there were 26.54 million internet users in Egypt of whom 9.95 million were mobile internet users (37.49%), as at July 2012 this number stood at 31.03% (approx. 17% increase) of whom 10.87 million were mobile internet users. The internet penetration rising from 32.96% to 27.79% in the respective periods.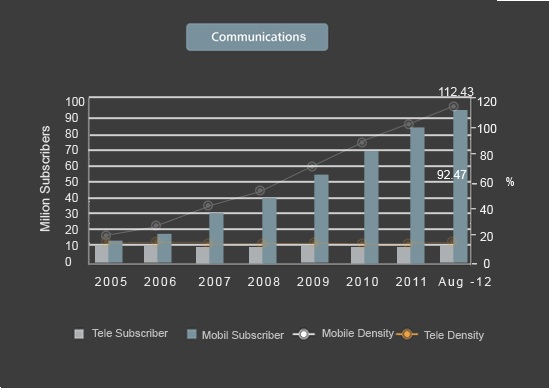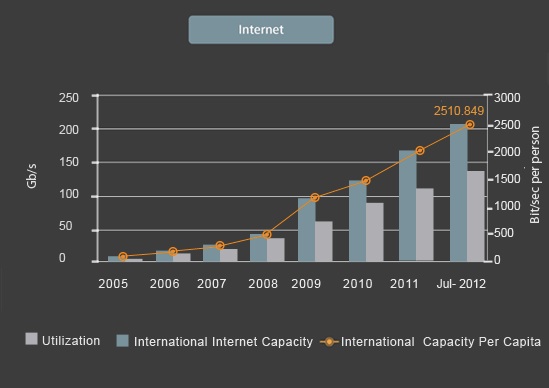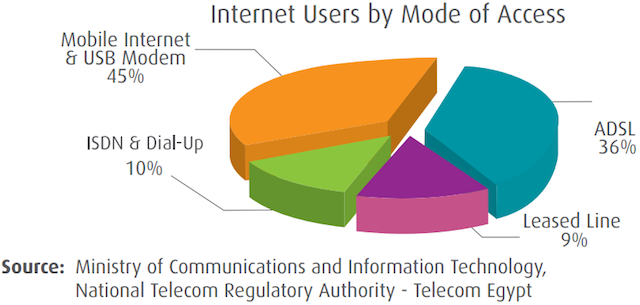 According to Alexa.com the top 10 websites in Egypt are:
Facebook.com
Google.com.eg
Youtube.com
Google.com
Yahoo.com
Hao123.com
Blogspot.com
Youm7.com
Fatakat.com
Live.com
According to social statistics website, socialbakers.com, Egypt has 11.6M Facebook users (68.21% of the online population, and 14.46% of total population), the top 5 Egyptian brands on Facebook are:
Vodafone Egypt ( > 2M fans)
Samsung Egypt  ( > 2M fans)
Nokia Egypt  ( > 2M fans)
Pepsi Masr  ( > 1M fans)
Etisalat Misr  ( > 1M fans)
According to the same website, the top 5 Twitter personalities in Egypt are (figures updated from their Twitter pages):
| | | | |
| --- | --- | --- | --- |
| # | Profile | Following | Followers |
| 1. | @AlMasryAlYoum | 9 | 987,300 |
| 2. | @tamerhosny | 4 | 887,529 |
| 3. | @eahram | 48 | 715,391 |
| 4. | @HamzawyAmr | 10 | 709,837 |
| 5. | @HamdeenSabahy | 5 | 631,086 |
ICT Sector & Investment Landscape
According to the MICT, there were 4795 ICT companies in Egypt as at July 2012, employing 215,720 people in the ICT sector. The MICT registered EGP 12.18B in revenues from the ICT sector in the Q3 2011/2012 period contributing 4.31% of real GDP, compared to EGP 10.10B in Q3 2010/2011. Egypt also recorded USD 1487M in ICT sector exports in 2011.
Ease of doing business: According to the World Bank/IFC ease of doing business index for 2013, Egypt ranks #109 overall and 11th in the Middle East and North Africa (MENA) region.
Investment landscape: According to  Sindibad's Investment Report in Internet & Technology Startups in the Arab World, Egypt attracted US $220,000 from 9 deals representing 0.9% of the investments they tracked in the MENA region between January 2010 and end of Q3 2011. According to a report by the MENA Private Equity Association the largest VC in Egypt is Ideavelopers, which manages a $50 million fund focused on early stage ICT startups.
Notable startups:
(Based on Wamda's Top 15 MENA Tech Startups That Are Going Global)
Kngine (Knowledge Engine) aims to answer your questions (written or spoken). The Kngine team is aiming at revolutionizing search as we know it. (I wrote about this startup a long time ago, great to see they're making headway)
Vimov: The creators of Weather HD, an amazing weather app and iSimulate, a solution for iPad developers
Notable innovations: Mohamed Sanad, a professor at the Faculty of Engineering, Cairo University, Egypt developed a low-cost, lightweight, low wind-load, foldable/deployable, multi-broadband base station antenna; using dual parabolic cylindrical reflectors with novel small size broadband resonant feeds. This won him the 2011 Innovation Prize for Africa
Tunisia
Basic statistics
Statistics courtesy of the Tunisian Ministry of Information and Communication Technologies (MINCOM) and the Tunisian Internet Agency (TIA)
Telecommunications & Mobile: As at September, 2012 MINCOM reports ~13.3M mobile subscriptions (mobile teledensity is 123.6 subscriptions per 100 inhabitants!), as compared to ~12.3M subscriptions recorded in 2011. This number represents about 92% of the total number of  mobile and fixed line subscriptions.
Internet, Web & Social: MINCOM reports international bandwidth capacity of 62Gb/s as at September 2012, as compared to 60Gb/s in 2011 and 50 GB/s in 2010. There are 1.07M internet subscriptions in Tunisia as at September 2012, up from 858,247 subscriptions in 2011 (a increment of 214,505 or 19.9% of total internet subscriptions).
According to Alexa.com the top 10 websites in Tunisia are:
Facebook.com
Youtube.com
Google.tn
Google.com
Google.fr
Blogspot.com
Tunisia-sat.com
Yahoo.com
Babylon.com
Wikipedia.org
According to socialbakers.com statistics:
There are 3,245,620 Facebook users in Tunisia representing about 30% of the total population and 90% of the total online population. The top 5 Tunisian brands on Facebook are:
Orange Tunisie  (541, 173 fans)
Ministère de l'Intérieur – Tunisie (340,172 fans)
Tunisiana (261, 461 fans)
Coca Cola Tunisie (244,805 fans)
Nokia Tunisie (191,950 fans)
ICT Sector & Investment Landscape
Ease of doing business: According to the World Bank/IFC ease of doing business index for 2013, Tunisia ranks 50th overall and 6th in the Middle East and North Africa (MENA) region.
(It's quite hard to get sector specific VC/PE activity data on Tunisia online – any pointers are welcome, just leave a comment below. The Tunisian Venture Capital Association is listed among the Emerging Markets Private Equity Association members but doesn't appear to have a website. There is, however information on some institutional investors operating in Tunisia on MENA Private Equity Association member page).
It would appear that tech innovation and entrepreneurship in Tunisia is on an upward trend though, as indicated in a MENA PE Association report. The report notes that Tunisia (page 16 of the report) has a high level of technology entrepreneurship but still operating under it's potential. Other indications also show this take for example Wiki Start Up a Tunisian startup incubator (the first in Tunisia according to a Foreign Policy article) co-founded by Mondher Khanfir that (according to the same FP article) had (as at the time of the writing of the article) "15 startups and a portfolio of $20 million, but our capacity is 30 startups and we're looking to raise funds here in Tunisia and internationally."
Notable startups:
(Based on Wamda's Top 15 MENA Tech Startups That Are Going Global)
Saphon Energy: This startup is revolutionizing how wind energy is harvested, by inventing a blade-less, sail-inspired means of capturing wind energy.
Integration Objects: This company provides plant automation systems and other services for chemical, petrochemical, power, and utilities industries.
Notable innovations: Saphon Energy's Saphonian
Are you from Northern Africa, Egypt, Tunisia and involved in a tech startup or innovation or entrepreneurship in tech, shed some more insight on the same in the comments section.