It has been noted severally that solar holds great potential for the African continent. Many African countries are plagued with power issues and blackouts are fairly common occurrences in many towns in Africa, this is perhaps what has pushed many innovations around solar energy – from ambitious projects to maybe more practical ones… like a solar powered internet cafe packaged in a standard looking freight container!
This Friday, 15th October at 10am Kenyan time, Computer Aid will launch its first solar powered Internet cafe in Kenya in conjunction with our longstanding Kenyan partners Computers For Schools Kenya (CFSK).
The Internet cafe made its long journey from London to Nairobi in the guise of a standard 20ft shipping container, normally used to transport refurbished computers. On arrival the container converts into a fully functional Internet cafe for 11 users at a time. The cafe requires little power due to the thin client network, which includes 11 flat screen monitors that run off a single Pentium PC.
Six solar panels have been fitted on the roof enough to provide 12 hours worth of electricity everyday. The panels will last up to 25 years. The container can be placed and used anywhere on the planet, with no mains electricity or wired connectivity needed. To function it only requires power from the sun and the internet access is acquired through cellular data connection, WiFi or VSAT.
Attending the launch this Friday as chief guest of honour will be Hon. Mohammed Elmi, Minister of State responsible for the Development of Northern Kenya and other Arid Lands. The Permanent Secretaries of Education, ICT and Youth are also expected to attend.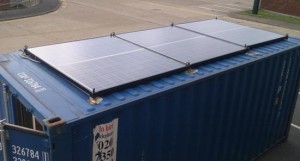 Tony Roberts, CEO of Computer Aid, said "the solar Internet cafe is an exciting new project for Computer Aid that enables us to reach even the most isolated rural communities. Computer Aid is committed to removing the barriers to ICT access in developing countries. The solar powered Internet cafe is just one of a number of projects we are working on to provide ICT solutions for rural communities. We are planning to set up several more solar Internet cafes in sub-Saharan Africa over the coming year, and we're keen for sponsors to get involved and help us expand this solution that illustrates commitment to social development and the environment"
According to Dr Tom Musili, Executive Director of the Kenyan based charity CFSK, "the solar internet cafe will provide ICT solutions to schools and community centres in the areas of Kenya that don't have mains electricity or any form of physical infrastructure to drive development". He is optimistic that after the launch, which will include loading the container on a truck, it will enable them to reach community centres in the remote areas of Garissa, Wajir and Moyale. Dr Musili would also like to see this initiative duplicated in the rural areas of Neri, Taraka and Mingi.
Computers for Schools Kenya has to date distributed over 30,000 PCs to over 1,000 learning institutions and trained 8,500 teachers in the use of ICTs across Kenya. Computer Aid has partnered with over half of CFSK initiatives in Kenya through both funding and the provision of high quality refurbished computers donated from UK organisations and individuals.
Over the past 13 years Computer Aid has professionally refurbished over 175,000 PCs for use in agricultural, health and education projects in more than 100 countries, predominantly across Africa and Latin America. To find out more about how to support Computer Aid through either donations of IT equipment or through sponsorship, please call us on 020 8361 5540 or email [email protected], or visit: www.computeraid.org.