The bold colors and exquisite details of Africa has long been an inspiration powerhouse! With the current worldwide interior décor and styling of warm color palettes, geometric shapes, and vivid detailing, the unique design culture of Africa is set to make its way into homes more prominently. Here are some of the top African style décor ideas and interior design ideas this year you can find inspiration in and incorporate to create a luxurious and beautiful home.
Geometric patterns and shapes
Whether it's the wallpaper, décor, and even wall art prints, geometric patterns and shapes are in! Think wall art prints with geometric patterns hanged on the living room, wallpapers with an eclectic pattern, triangular bookshelves attached to the wall, or odd-shaped décor, geometric patterns definitely add character to any space.
African-designed sustainable decors
In the interior design world, sustainability has become the rage. In Africa, baskets made of natural materials have long been a key staple in styling. This comes as no surprise since Africa is rich in natural resources, and people want to connect with nature. Baskets can be used as décor even on the walls of your home.
Succulents and cacti have grown in popularity over the year. And these little cute plants are here to stay. There are many ways to decorate with it too. Styling up with succulents and cacti is both possible inside and outside the house. Mix and match different kinds, there are endless possibilities to design with these. Put them as your centerpiece in the living room or create a grid of succulents and hang them in your wall space.
Talk yellow, coral, and indigo, this season's favorite hues when decorating different areas in a home. Play up these colors and create contrast using another warm color or give it a subtler effect by combining it with more neutral tones. Meanwhile, colors like blue and yellow with green are a reminder of Africa's rich landscape and environment. Bringing this combination into your interior creates a signature African design that exudes warmth and elegance.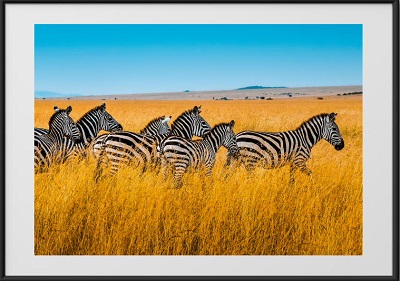 Think of Africa and what does it remind you? Black and white portraits of the wildlife safari constantly remind you of this beautiful exotic place. Animal art prints are a great way to infuse the African vibe into your home. Mix in a few décor items that represent the culture, and you have the versatile African styling in your home. For the best safari art prints, Artfrill offers a luxurious selection of museum quality pieces at an affordable price. Curate the best African-style art prints at Artfrill.
Vibrant wallpapers and wall tiles
Wallpapers will never go out of style. And vibrant wallpapers that with geometrical patterns and tribal designs dominate the African interior scene. Bold colors on wallpapers are also trending this year. Another deco style that has been making a comeback is wall tiles. Patterns that turn heads and catch attention are the rage, and it's staying for a while.
This year, the African décor styling revolves around the natural and being in touch with nature – a homage to the place's rich culture and heritage. So if you're looking to achieve the African interior styling, go for earthy and vibrant tones, natural décors, safari wall art prints, and a uniquely vibrant contrast!